February 28th Ich weiss, ich verlieb mich noch heute in dich reaches No 38 on the German Charts and is in the charts for a total of 2 weeks.

March 8th With parfumer Herr Wusman on her Birthday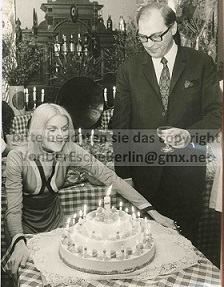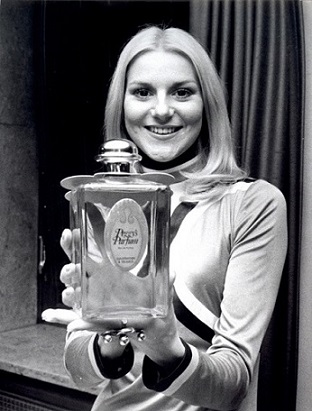 March 9th Peggy is a player in the TV game show Dalli Dall
March 11th Peggy appears in the TV Movie Die Glückspirale
April Peggy is on the cover of the TV listings magazine ff Jounal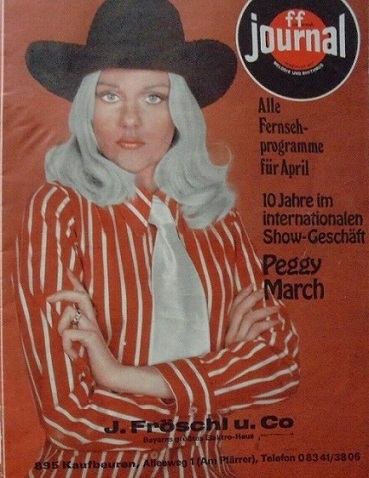 June 3rd Billboard reports in an item titled "Million Mark Charity Disc Hamburg" that "Sales of three LP records and one musicassette released by Teldec have resulted in the handing over of more than 1.4 million marks to the German Sports Charity designed to aid German sportsmen in the Olympic Games. The albums - Gala Show of Stars Vols 1&2 and Folk Music Gala Concert - and the cassette Gala Show of Stars Vol 2 - feature Peggy March... All of the artists donated their royalties to the charity."
June 10th Photo (below) taken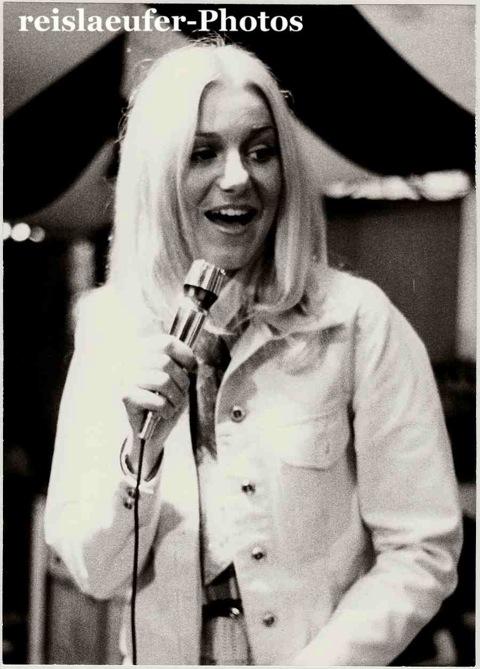 July 7th Peggy is featured on the cover of the magazine Schallplatte

July10th Es ist Schwer, dich zu vergessen reaches No 30 on the German Charts and is in the charts for a total of 2 weeks.

July 12th Photo taken (below)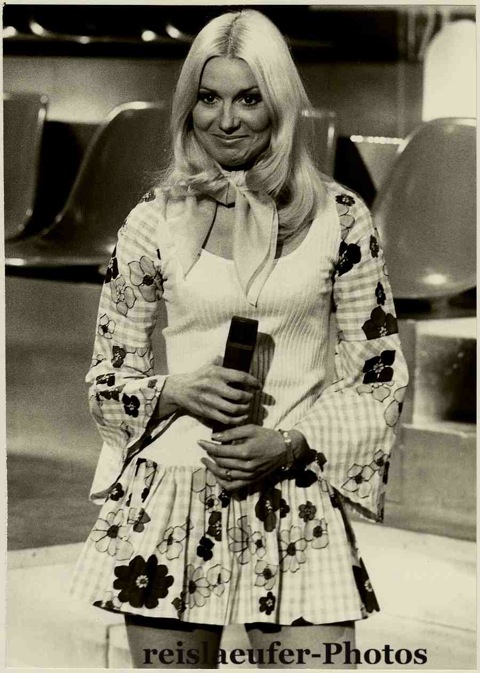 July 15th Appears on the East German TV show Ein Kessel Buntes. Peggy sang Einmal verliebt, Nie war diese Welt so schön and Es ist schwer dich zu vergessen.

July 15th Billboard reports in their 'Music Capitals of the World' section that "Peggy March, who has been recording for Teldec-Telefunken at Hamburg, has switched to Ariola and the singer's first single under the new deal is Es Ist Schwer, Dich Zu Vergessen" (It is not easy to forget you)"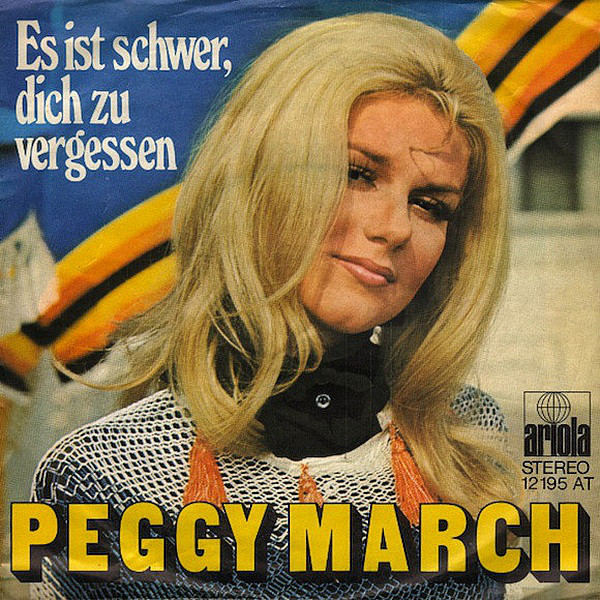 July 22nd Appears on ZDF Disco (Show No. 18) and sings *Es ist Schwer, dich zu vergessen * (This might be the video from this show). The Star Portrait interview was a special produced for this show and it gives an interesting insight into life at home in Munich.

August 2nd Peggy appears in the German listings magazine Bravo Nr. 35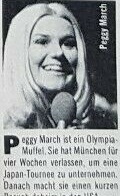 August 5th/6th Peggy is the star guest of the German-American folk festival in Grafenwöhr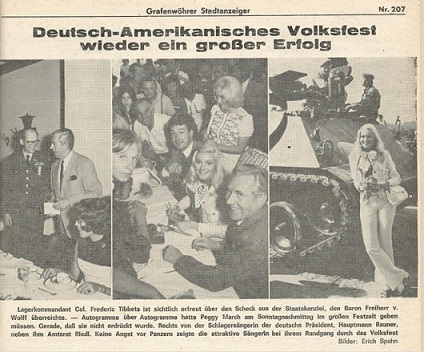 September 2nd Hildeo Ecuchi from Tokyo reports, in the Billboard 'Music Capitals of the World' section, that "Peggy March returns to Tokyo for the tenth time Sept 25 for a three-week promotion tour of recordings she cut while at the Taibei Studio, July 28-29, in Tokyo. The records will be released on Tokuma Musical Industries new Dan domestic label."
September 2nd Peggy appears on the ZDF Hitparade show and sings Es ist Schwer, dich zu vergessen

October 9th & 11th Peggy performs at the Copacobana night spot in Tokyo
October Records Ano mune ni Mouichido whilst in Japan
October 15th Returns to Munich
October 16th Feature on Peggy in the Bunte Freizeitmagazin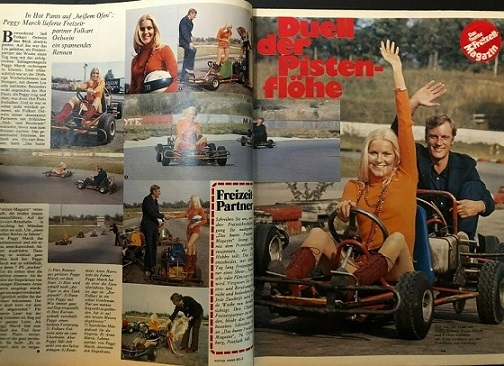 October 23rd Peggy appears on theTV Show Hatten Sie heut' Zeit fur mich?
October 30th Feature on Peggy in the Das Neue Freizeitmagazin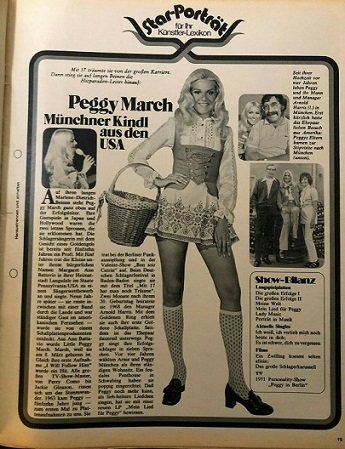 November 27th Photo (below) taken. This Keystone photo is titled "Peggy March as saleswoman at Munich's Antique Fair" and reads "The charming American Pop singer - who has lived in the Isarmetropole for some years - played saleswoman for the occasion of the opening of the Antique Fair - and as a result was responsible for an increase in turnover."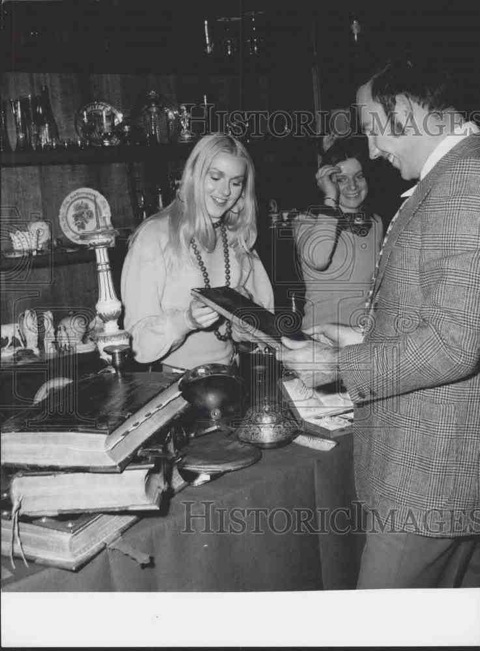 December 22nd In Kyoto LP includes 5 Japanese songs (Japanese Label TOKUMA/DAN VC 7509). Peggy tells me this is one of only two live recordings she has made (the other is available in the US when she sells merchandise at events). In Kyoto was recorded over two nights and the cover photo of the LP was taken by husband Arnie Harris.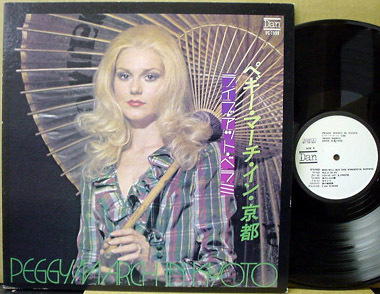 The double LP Lady Music is released by Decca - SD 3004/1-2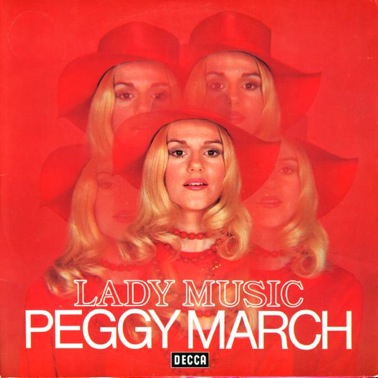 The LPs Einmal Verliebt - Immer Verliebt, Die Grossen Erfolge Nr. 2 and Portrait in Musik are released by Decca (92 739, 668 & 3175)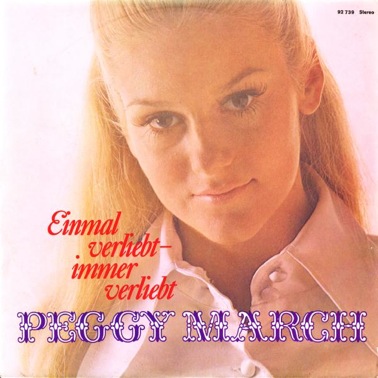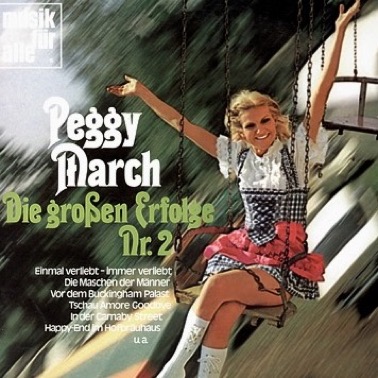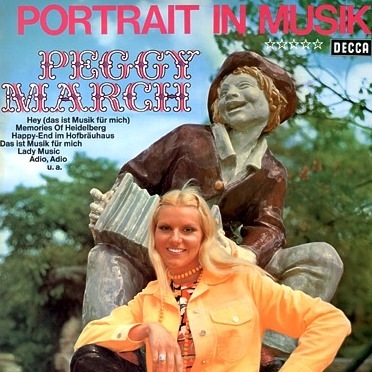 Peggy's songs Sing, Ich Weiß, Ich Verlieb Mich Noch Heute In Dich appears on the compilation LP Spitzenschlager '72 Decca - 28 308-5, Deutscher Schallplattenclub - 28 308-5.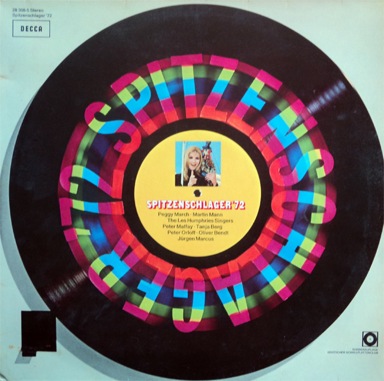 December 28th Appears as herself in the film Heute hau'n wir auf die Pauke (still and Poster from the film below followed by video extract.)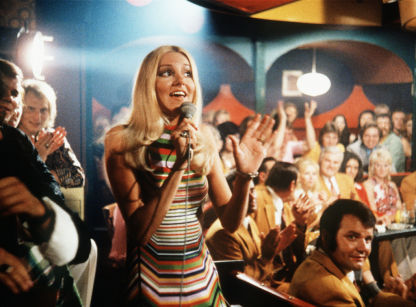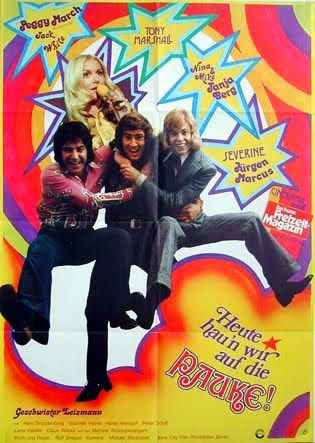 Sing, Nie War Diese Welt So Schön appears on the compilation LP that has the songs from the film Heute Hau'n Wir Auf Die Pauke! Das Grosse Schlagerkarussell Telefunken - NT 756, TELDEC - NT 756