March 13th Appears in 'Rock N Roll Extravaganza' at the NYCB Theatre, Westbury NY
March 29th - 2nd April Recording the tracks in Audio Vision Studios Miami, for the new Night Dance Records Always and Forever album.
May 22nd Appears in Hartford CT
June 4th Peggy on the Flyer for the last night of the Sugar Beet Club Spalding UK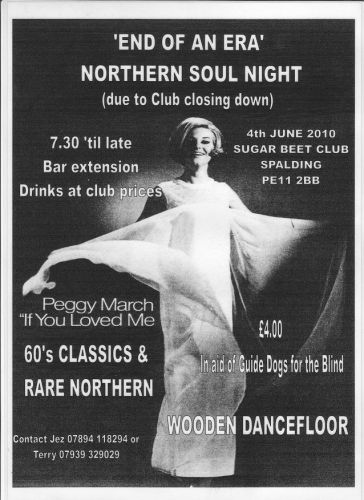 July 4th Appears as a guest with Andreas Zaron in ZDF Tour event.
July 7th (?) Peggy sings In Another Time And Place in public for the first time at the Gay Pride Event in Koln.
July 9th Appears as a guest with Andreas Zaron in NDR Schaubude on Tour event.
July 16th Appears as a guest in SWR Tour event at Trier. Performs a solo spot and also performs a duo with Andreas Zaron
July 18th Appears as a guest with Andreas Zaron in MDR Schlager des Sommers event
July 23rd-24th Appears at the Orleans Hotel, Las Vegas, in Legendary Ladies of Rock and Roll
August 7th Appears at the American Music Theatre, Lancaster, PA
August 15th Appears on the TV show Willkommen in Norden (NDR-fernsehgarten)
Peggy's recording of Leave Me Alone appears on the Compilation CD Bless You California - More Early Songs Of Randy Newman issued by Ace - CDCHD1240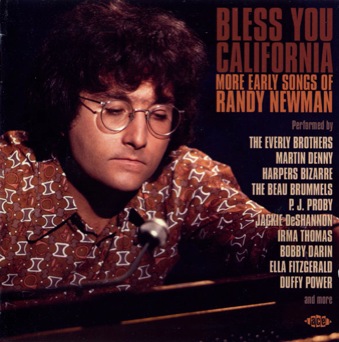 August 30th Peggy's recording of Das Ist Zauberei (And I Loved You Then) appears on the Compilation CD Califia: The Songs Of Lee Hazlewood issued by Ace - CDCHD1277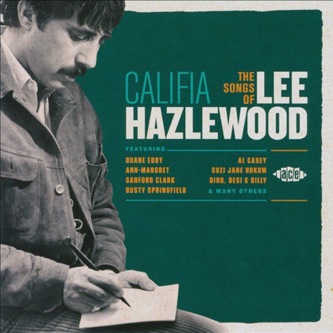 September 8th Interview by NDR (In German) from her Summer tour to North Germany (with Andreas Zaron who explains how Peggy has mentored his career)
September 30th Peggy and Arnie attend Ralph Siegel's 65th Birthday party in Munich.
October 1st Darren Harvey writes the story of the making of the Always and Forever album on the Night Dance Records Facebook site. http://www.facebook.com/notes/night-dance-records/the-making-of-peggy-march-always-and-forever/129982553718764
October Manifesto Magazine has a feature on Peggy written by Darren Harvey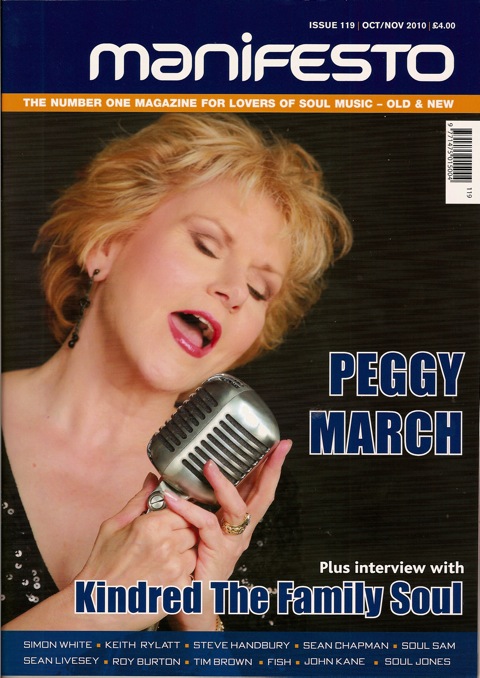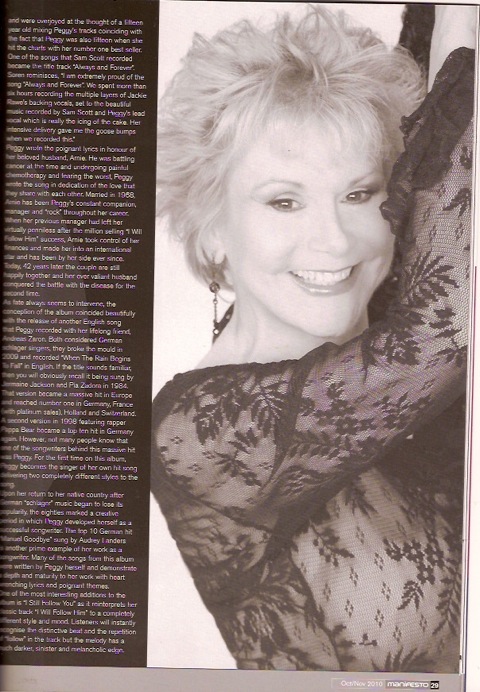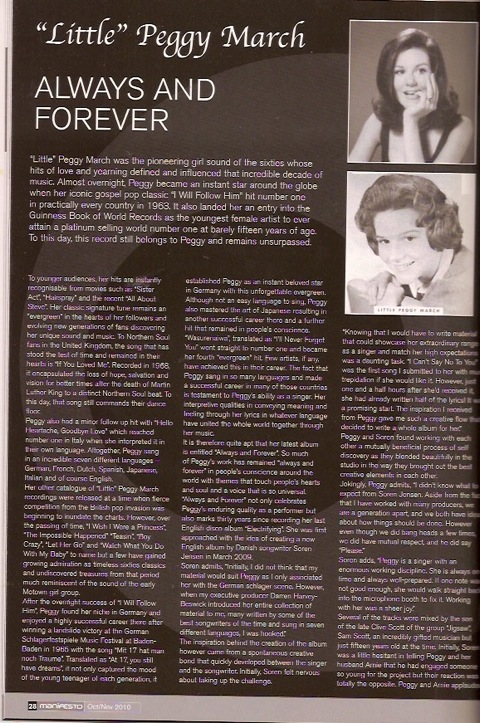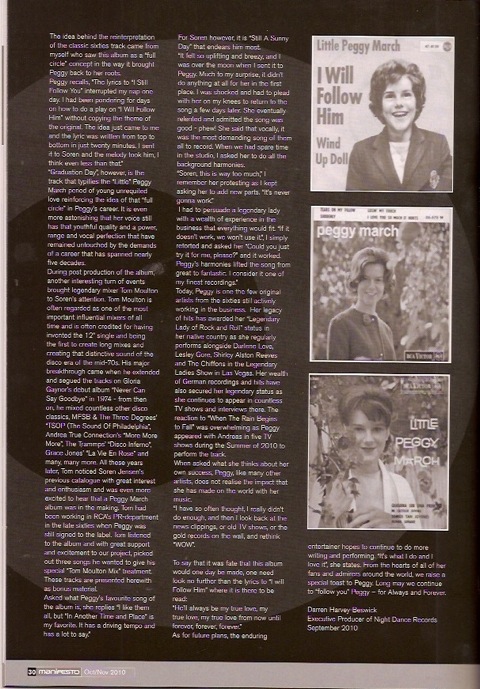 October Promotional Video for the new album "Always and Forever" by Night Dance Records "...with her first English-language album of original material in 30 years! A stunning collection of pop, soul and dance tracks and breath-taking ballads..." UK release 13th October.
November 9th Billboard run a feature on Peggy
November ARD Interview at Peggy's Florida home
December 20th Interview with Justin Kantor on BlogTalkRadio. Peggy talks about Always and Forever before moving on to answer questions about her early career. This interview lasts 60 minutes. The Blogcritic article can be found here.
December 31st Performs on WDR4's New Year's Eve Show in Wuppertal (with Andreas Zaron) (photo below)