January 16th Peggy is the MC at the Rocky & The Rollers Lady Legends show at the Savannah Center, The Villages, Florida. She did sing a few songs but mainly introduced the other artists.
January 22nd Night Dance Records release a 50th Anniversary video of Peggy singing I Will Follow Him.
January 27th Peggy was part of the Rocky and the Rollers Oldies Cruise (27th Jan - Feb 2nd 2013). Amongst other activities, Peggy performed a 50 minute show.
February 16th Peggy performs at a private function near her home in Florida
March Goldstar TV transmit a 45 minute special to celebrate Peggy's 65th Birthday (photo Below)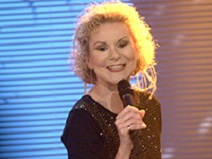 March 25th Peggy's husband Arnie dies.
April 15th A 1960s compilation of some of Peggy's German Hits in a series called Schlagerstars der 60er Jahre. The video quality in most of these clips is much higher than was previously available.
April 30th Article on Peggy in Freizeit Spass
May 1st Interview with The Reporter, Lansdale
May 19th Peggy hosts a Celebration of the Life of Arnie Harris. (This would have been Peggy and Arnies' 45th Wedding Anniversary) (Below - preparing the balloons for release.)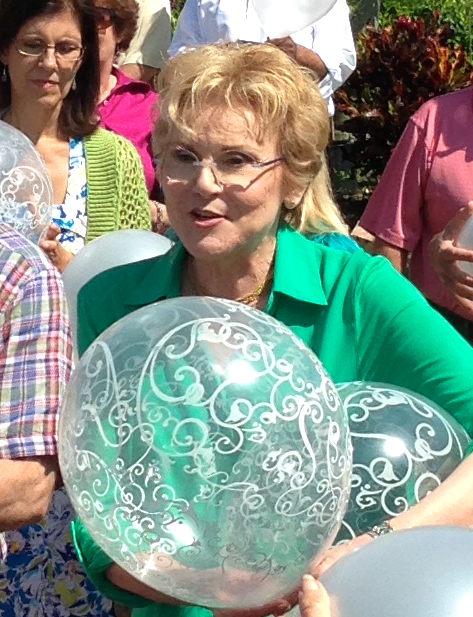 May 23rd Peggy is interviewed by the webmaster of this site at her Florida home.
July 4th Peggy commences her 'July' trip to Germany
July 7th Peggy appears on ZDF's Fernsehgarten show from Mainz and performs a medley of 'oldies'.
July 8th Peggy is interviewed by Radio VHR in Mainz.
July Articles about Peggy appear in the German Press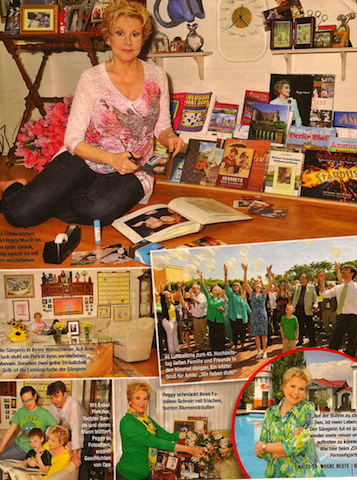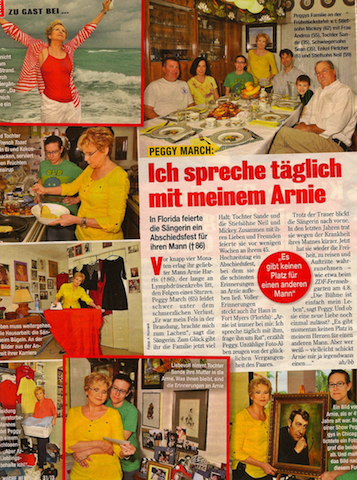 July Interview with Die Schlager Bar The interview is in two parts
August 1st Peggy is featured in the TV movie My Music: '60s Girl Grooves
August 4th Peggy appears in ZDF's Fernsehgarten show from Mainz and sings Every Day's A New Day from the Album Always and Forever. Photo of of Peggy with Lena Valaitis from the 4th August show follows the video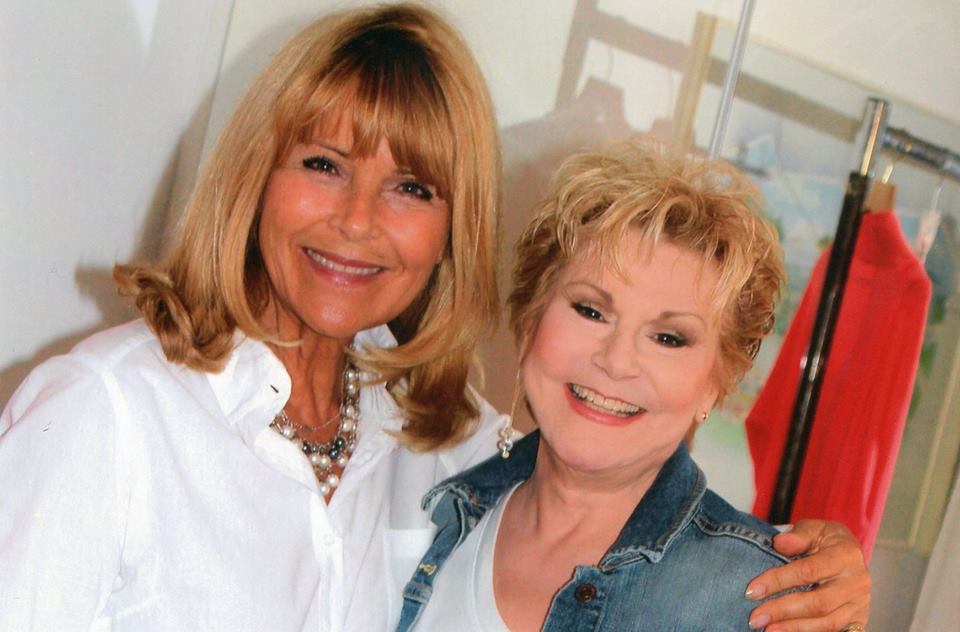 August 5th Peggy returns to the USA
September 14th Peggy performs with Kathy Young and Dodie Stevens at the Allegany High School in Cumberland, Maryland. Photo below was taken after the show with (left to right) Stephanie, (Dodie Steven's daughter who works with her mother), Dodie Stevens, Peggy & Kathy Young. Peggy reports that they made a ladies weekend out of it.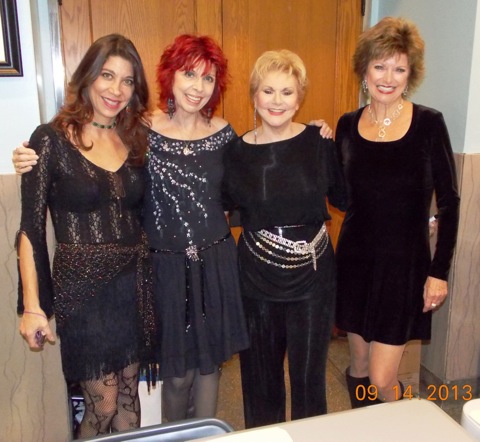 October 9th Peggy leave Florida for her trip to Germany
October 11th Peggy appeared on the live NDR evening talk show in Hamburg. (Below With her guests Mary Roos and Andreas Zaron). Peggy and Mary went out for a couple of meals at Mary's favourite Japanese restaurant - Peggy is also a big fan of Japanese food.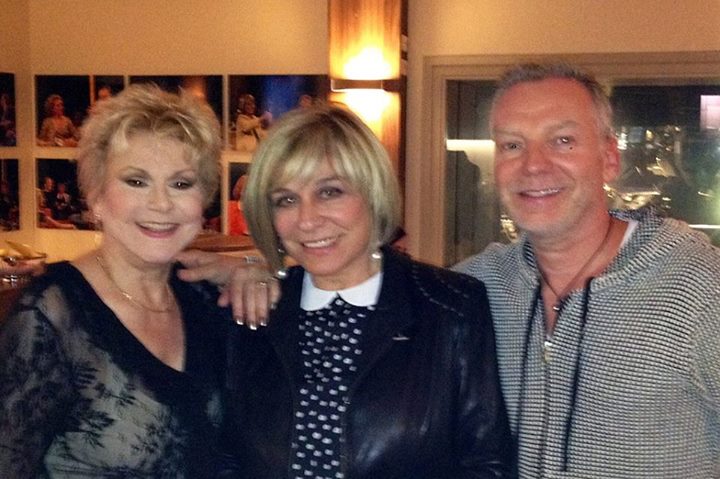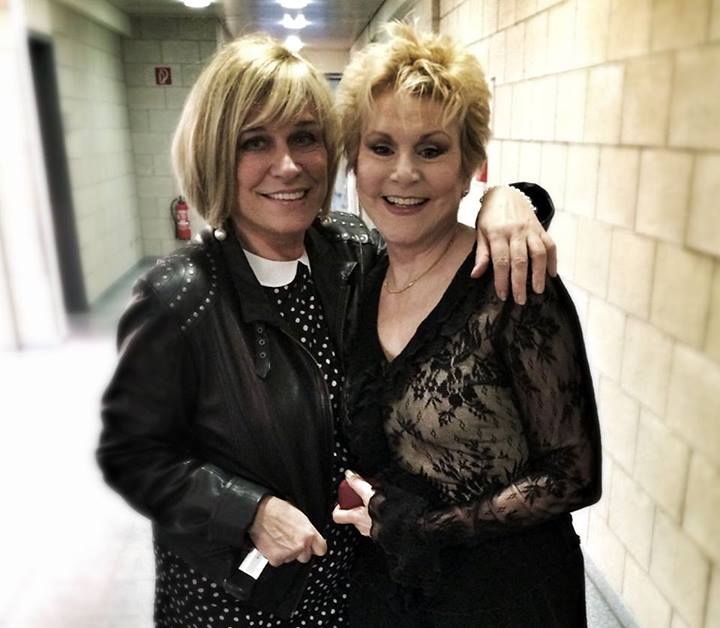 October 15 -17th Rehearsals and Filming in Cologne for the ZDF New Years Eve Party
October 18th Peggy appeared on the Volle Kanne ZDF morning show. Edited highlights are below
October 21st Peggy March attends the presentation of the Manfred Baumann New Calendar 2014 at the King's Hotel Center.
October 24-25th In Magdeburg rehearsing for the Carmen Nebel Show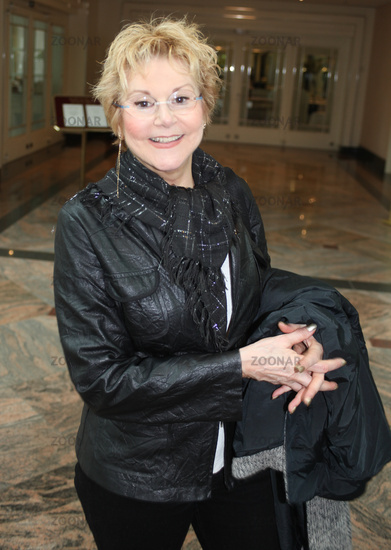 October 26th Peggy is a surprise guest on the Carmen Nebel show. Photo below is of Peggy attending the aftershow party. Peggy was a surprise for the 86 year old grandmother!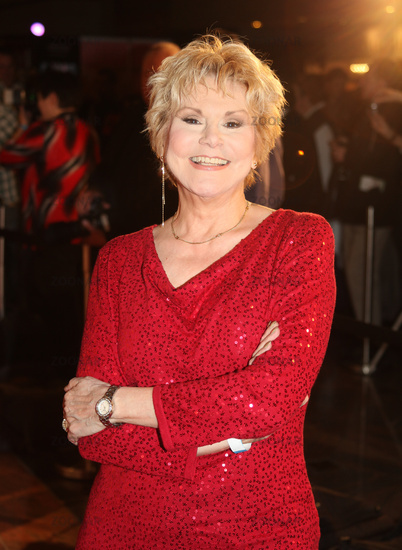 December Peggy's Christmas Card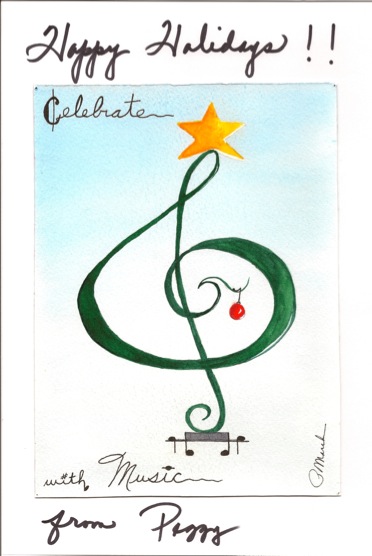 December 25th Peggy spends Christmas with her daughter's family in Chicago.
December 31st Peggy is a guest in the ZDF Hitparty show.