March 20th Appears on the TV Show Gus Backus präsentier Hits aus 66
April 8th Omer Anderson reporting from Cologne for Billboard in the 'Music Capitals of the World' section writes that "Peggy March has just wound up a tour of American military units in Germany and has made a successful TV appearance on the program "Music From Studio B." Peggy's big hit has been her German title "Memories of Heidelberg."
April Feature on Peggy in the TV listings magazine "Funk und Fern"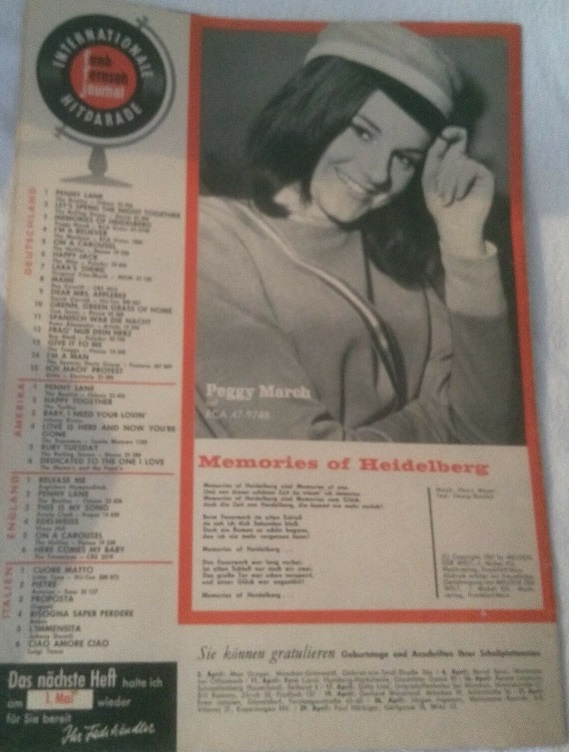 April 10th Peggy appears in the magazine Musikparade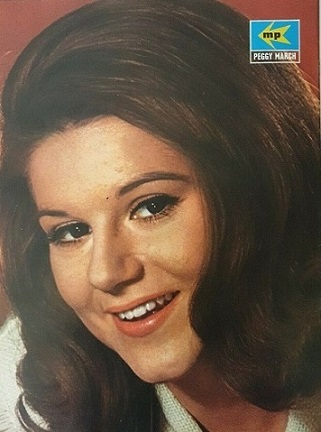 May 16th The magazine Automatenmarkt shows Memories of Heidelberg at No 2 position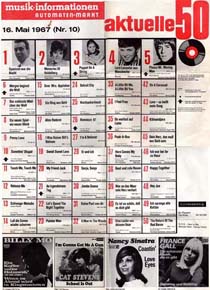 May 19th This Heart Wasn't Made To Kick Around is recorded.
May 27th A review of Your Good Girl's Gonna Go Bad in Billboard under 'Pop Spotlights - top 60' "Your Good Girl's Gonna Go Bad The raucous hit currently No. 2 on the country chart serves as powerful material for Peggy March and should prove the item to put her on the Hot 100 chart again. Material, arrangement and her strong vocal work fits today's pop market. Flip: "Mama, Dear, Papa, Dear" RCA Victor 9223
June 10th RCA Victor place an ad in Billboard following the good review of Your Good Girl's Gonna Go Bad. "Peggy March has a strong pop version of the C&W smash Your Good Girl's Gonna Go Bad c/w Mama Dear, Papa Dear. It's a single pick of the week in Cash Box and Billboard. Better get on it!."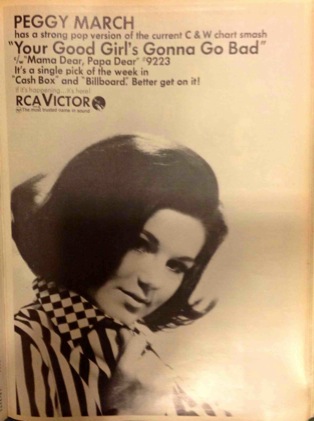 June 29th Telegramm aus Tennessee, Wiedersehn, Canale Grande Number One, Der Mond scheint schön, and More are recorded in Berlin.
July 8th A report from Hamburg for Billboard in the 'Music Capitals of the World' section writes that "Caterina Valente is set for four TV spectaculars with guest appearances by Peter Alexander (ariola) Alice and Ellen Kessler and Peggy March (RCA)
July 10th Appears in Bravo magazine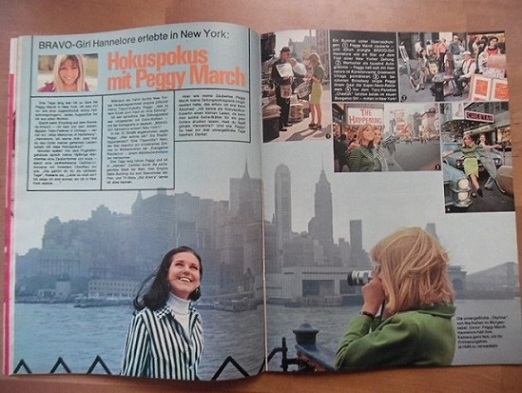 August 8th This Heart Wasn't Made To Kick Around is released.
Aust 22nd Peggy is a guest in the German TV show Music aus Studio B
August 26th Omer Anderson writing in Billboard reports that the Berlin gala features an all star international array of talent and notes that the list includes Peggy March.
August 26th Peggy was the first solo singer to appear on the TV broadcast Gala der Schallplatte. She sang Romeo and Julia and the extract is below - Peggy tells me the dress was chosen because it was colourful. This transmission is notable for being the first transmission in colour to be received across several European counties. (Colour transmissions in West Germany had been launched the day before by Chancellor Willy Brandt). (The photo following is of stars from the show)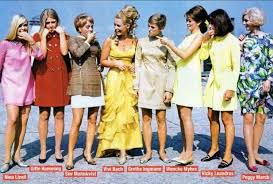 August 28th Peggy appears on the TV show Die Drehscheibe
September 9th Billboard, in an article titled ' 25 Pop and Lieder LPs in Teldec's Five-Star Program'. reports that " ...Other "five-star" attractions are Caterina Valente, Peggy March, Paul Anka, Tom Jones and such top German artists as Hans Albers, Werner Mueller, and Hazy Osterwald. Teldec's list is not only one of the most catholic pop programs offered by the company but also entirely international in keeping with Teldec's conviction that "music knows no frontiers.""
September 21st Appears as herself on The Joey Bishop Show
September 23rd Romeo und Julia reaches No 1 on the German Charts and is there for a total of 22 weeks of which 12 are spent in the top ten.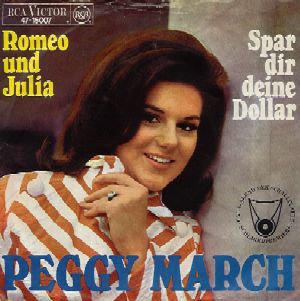 October 21st Billboard in an article titled ' Matsuoka, of RCA Nippon, in U.S.' writes that " Kiyotaka Matsuoka,, head of RCA Victor at Nippon Victor in Japan, is in the United States to discuss with RCA executives further exploitation of Japanese songs by U.S. artists. Nippon Victor has scored successes with such artists as Peggy March and George Hamilton IV..."
December 2nd Photo of Peggy from The Caterina Valente Show (with Silvio Francesco, Jean-Pierre Cassel Caterina Valente and Ronnie Tober)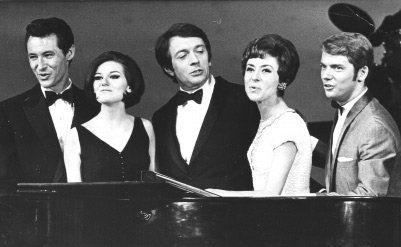 December 18th Appears in Bravo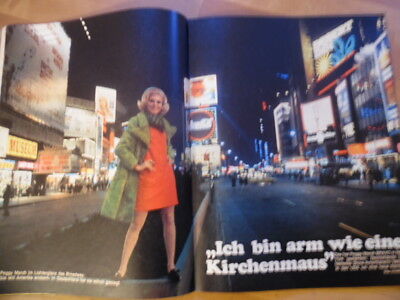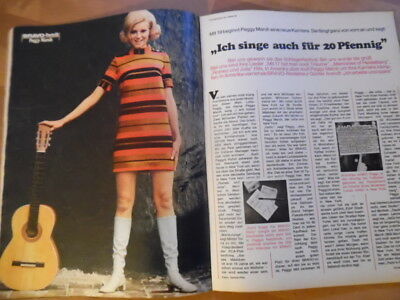 December 23rd Ray Brack reporting from Chicago for Billboard in the 'Music Capitals of the World' section writes that "Allen Sherman and Peggy March open Dec 26th (at Mister Kelly's)."
December Telegramm aus Tennessee is released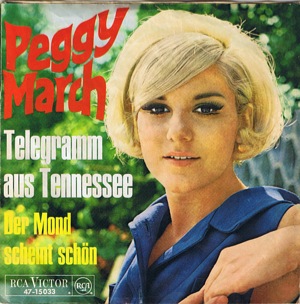 Peggy appears in BRAVO magazine No. 48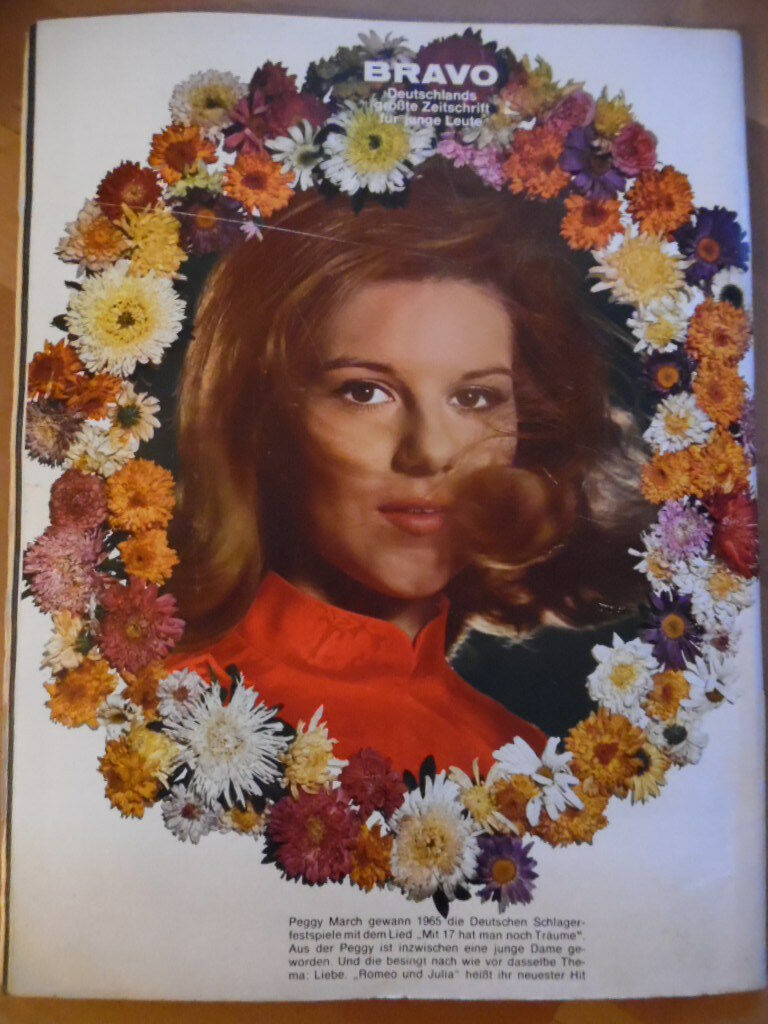 The LP Hello Boys! is released by RCA Victor - LSP 10141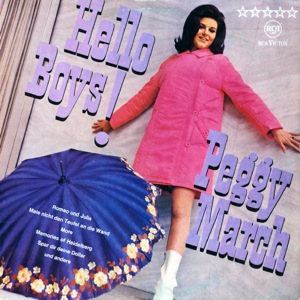 Interesting interview with Bob Berry about her earlier career. Her progress with the German language suggests it was recored in late 1967.

Romeo Und Julia appears on the compilation LP Das Klingende Schlageralbum 1967 SR International - BLK 76 941.

Feature on Peggy in the German youth magazine OK Nr. 4